25-hour workweek: How joining a people-first team helped me find true work-life balance
A 25-hour workweek sounds like absolute heaven, doesn't it? Well, let me tell you: it pretty much is.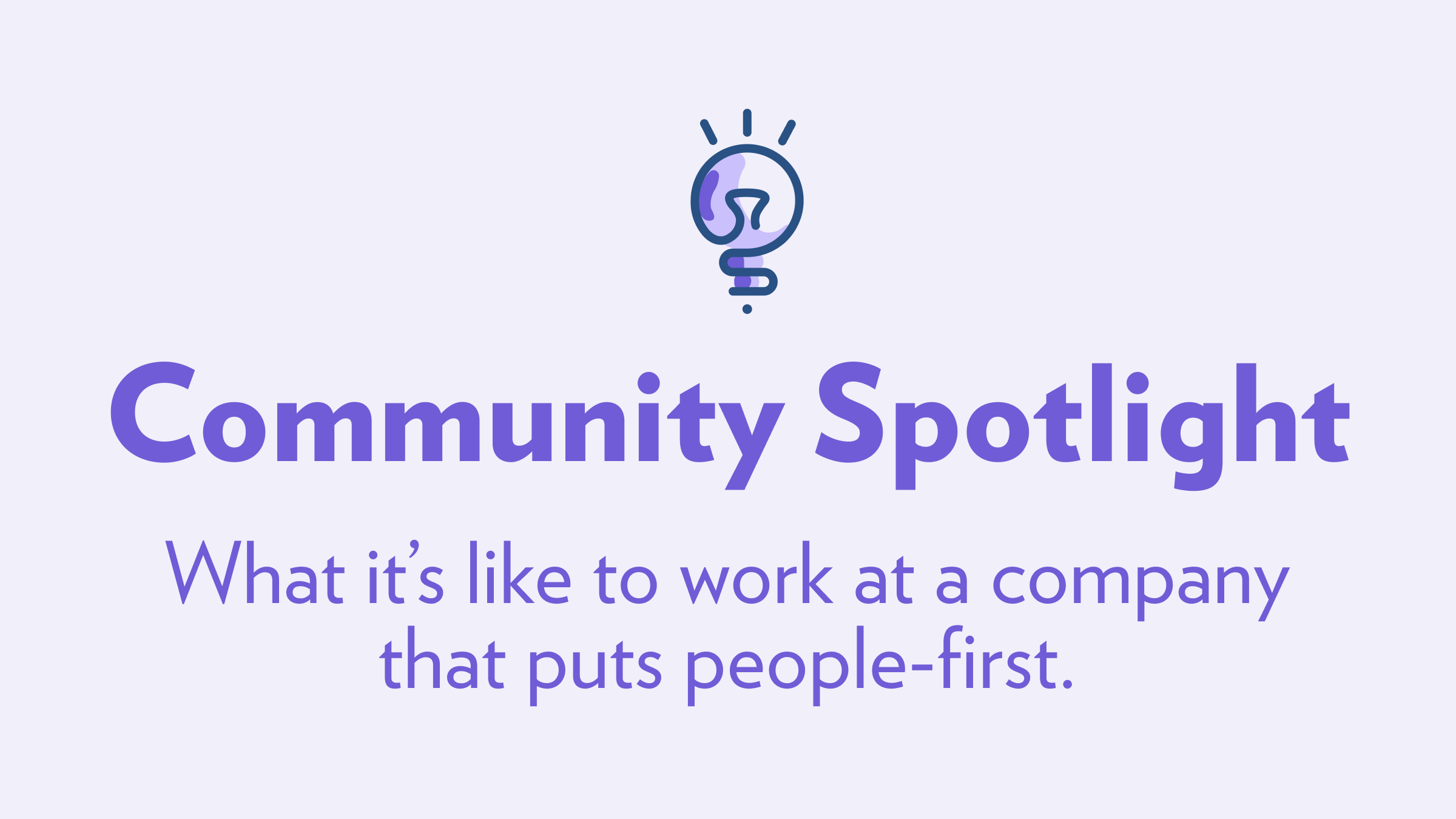 I've never really been one to make choices based solely on financial gain. This is how I ended up studying Fine Arts at University, doing a decent amount of international travel in my 20s, and moving to Spain without a job or savings in my mid-30s. To say, this is why a lot of the best things that have happened to me in my life have happened: because I've been a little more heart-driven than money-driven.

Of course, this led to some real struggles as well. I've had some scary moments where I wasn't sure how I'd get rent paid or had to work up to five part-time jobs just to make ends meet, and worst of all: not been able to afford the time to really dedicate to my painting career.
The needle has always seemed to be too far one way or the other. I've either had loads of time to paint and full anxiety about how I was going to survive, or I've been making enough to support myself but had next to no time or energy to dedicate to art-making.
It wasn't until age 39 that I finally found what I needed: a job that pays me well and only allows me to work 25 hours a week.
The path to finding true work-life balance
I'd been aware that People-First companies existed for only a couple of years. It's so obvious now, and I'd developed a pretty strong philosophical alignment to People-First concepts over my years as an employer or manager. In my previous role as a manager of an extraordinary team of CX experts, my main goal was to help my team in their career development and give them the most positive work experience that I could. I believed that Customer Support serves the customer, and the manager of the Support team serves that team. I truly loved helping them succeed and be happy.
I'd been hoping my next role would find me in a company that shared my values, so I had been keeping my eye out for such an opportunity. Passively perusing the Support Driven Slack community and signing up for the People-First Jobs newsletter led me to find a job posting at KnowledgeOwl.
The job post itself described an absolutely ideal working situation for me. Every team member at KnowledgeOwl only works a 25-hour workweek, which would allow me much more time to dedicate to my painting practice. The KnowledgeOwl value of 'collaborative autonomy' spoke to a company that trusts its employees while offering help where needed. At KnowledgeOwl they allow their workers full autonomy to own the work they believe will be most impactful, while always being available to lend a hand whenever it's needed or wanted. Also, the pay offered was significantly more than what I was making in the full-time role I was in. It described a pretty ideal world where I could work on what I was good at, live well, and truly have a work/life balance. To say I was excited about the opportunity is a huge understatement.
Throughout the application process, the company continued to demonstrate how they really took a People-First approach.
No pay negotiation. They offered a wage range that applicants were asked to choose within and did not wish to negotiate. There is no more sour feeling than being offered a job and then being led to feel you and your employer are immediately on opposite sides of the table. I don't want to go back and forth or feel like I need to justify my worth to someone who just told me they'd like to have me on their team. I want to feel like we're working together for each other's benefit, none of this me vs. you stuff, please.
I heard back from them within a few days of applying. This is a beautiful and rare thing, to hear back from a company within a week of submitting an application. It showed respect for my time and how I might feel as an applicant to what was my actual dream job, waiting to hear back.
The application process was laid out clearly to me, including what the steps would be and a basic timeline for when I could expect to hear back about each step.
They shared the interview questions with me well ahead of the main interview. How nice to have the chance to properly prepare for an interview! I mean thinking on your feet when you're incredibly nervous is a good skill to have, but it's far from the most important one. Like when someone asks "What's your favorite film?" and you go completely blank and forget that you've ever seen a movie. That's the kind of interview nightmare that's being avoided here, and it was deeply appreciated. I wrote out my answers to all possible questions given to me but in the interview, I didn't look at them once, and I ended up answering quite differently than I'd expected to. Having the time to think about the questions beforehand helped me reply in more sincere ways to the questions. No nervous space-filling babble, nor deep post-interview cringes while realizing what would have been a more honest answer.
Receiving the job offer less than a week after the final interview. I gave a long and loud AHHHHHHHH!, startling my partner, when I received my aptly titled "Wanna be an Owl?" email from our CEO, Marybeth. I'd never wanted a job more in my life, so the waiting part was pretty intense. I was so thankful to have had such a short wait, as those pins and needles were very prickly.
The green flags continued throughout my onboarding journey with KnowledgeOwl.
I'd left a company I'd been with for five years and a team I was absolutely in awe of—so it was no small thing to take the leap to a new company. However, I found any doubt that crept up was immediately crushed, and I just kept receiving more and more proof that I'd made the right decision.
My onboarding process was exceptionally clear. I was given a 'scavenger hunt'—an Asana board including tasks broken down into a timeline. The first day and week largely consisted of easy-to-do setup tasks and reading important documentation about the company, its vision, and how it works to fulfill that vision. There were tasks spanning all the way through my first six months, giving me a clear idea of what was expected of me—while allowing time for me to really get to know the place I now worked at.
Parliamentary democracy works for companies too. A group of owls is called a parliament! This is also how KnowledgeOwl operates and makes all of its major decisions. Employees are encouraged to bring forward any issues or ideas they might have for the company, and the rest of the owls vote on which three they would like to discuss in the weekly meeting. All voices are heard, and then action is taken/not taken based on the outcome of that discussion. There is no siloing, nor hidden discussions happening without the rest of the team being informed. This transparency is truly something to behold.
Finding literature to support what I'd been thinking about for a while. My social network historically consisted mostly of artists and musicians. Not exactly the type to be sharing documents about how to effectively coach, train, and help folks within a business context. I really liked Mat from Help Scout's newsletter, but that's about as far as I'd gotten with the industry-specific content. However, before beginning my new role, I had a conversation with Marybeth and our Chief Product Owl Kate about the importance of humility within oneself and colleagues. Immediately they were sharing with me Ari Zingerman's "Humility: A Humble Anarchistic Inquiry" and I was wowed. This was the first of many important reads my fellow owls have recommended to me—folks here had really dug deep into what I cared about, and were much better at articulating what I'd been feeling for years in this industry. I was learning a mile a minute and feeling completely inspired.
Discovering programs that they hadn't even bragged about in the interview process. How often do we see "Generous vacation policy" and "competitive salary" in a job post? By now these are known red flags, as it likely means ten days off per year and low to middle-of-the-road compensation. KnowledgeOwl was very clear in what they weren't offering during the application process—but had missed some of what they were offering. So it was an extremely pleasant discovery when I came across the Learning fund offered. They support any kind of learning that could possibly help you within KnowledgeOwl. Not only do they pay course or materials fees, or any other number of learning-related costs—but they even allow you to dedicate up to 20% of your workweek to learning. To say, they pay your expenses but also pay you to learn. This is an incredibly beautiful program that I hope many other companies adopt. Thanks to this program, I'm finally realizing a decades-old intention to learn how to adapt my painting skills digitally.
I'm now eight months into my role at KnowledgeOwl, and so much of my life has changed for the positive.
I've stretched my wings in a number of ways. Working within an environment that allows me to experiment and take risks is enormous. The free exchange of ideas and help between colleagues fosters an environment of joy at work that I've never experienced before. I'm trying new things, constantly learning and growing, and making a positive impact within the company. It's the goddamn best.
The 25-hour workweek really is as good as it sounds. I arrive energetic and ready to work every day. I'm well-rested and not burnt out at all. I believe I'm getting more done in 25 hours than I ever did working 40+ hours/week. It's much easier to stay properly focused for a five-hour workday than an eight-hour one. Also, with KnowledgeOwl being so encouraging and trusting of any ideas we have, it's easier to stay inspired and motivated.
Painting has always been my true love, but I'd hardly ever had the opportunity to put more than 20 hours/week towards it. Working either full-time or up to five part-time jobs never allowed me to spend the time I needed to on my craft. Since starting at KnowledgeOwl, I've been clocking an average of 35 hours a week in the studio. I have since landed the two biggest shows of my career to date. My paintings have improved tremendously, and my painting career is moving upward as well.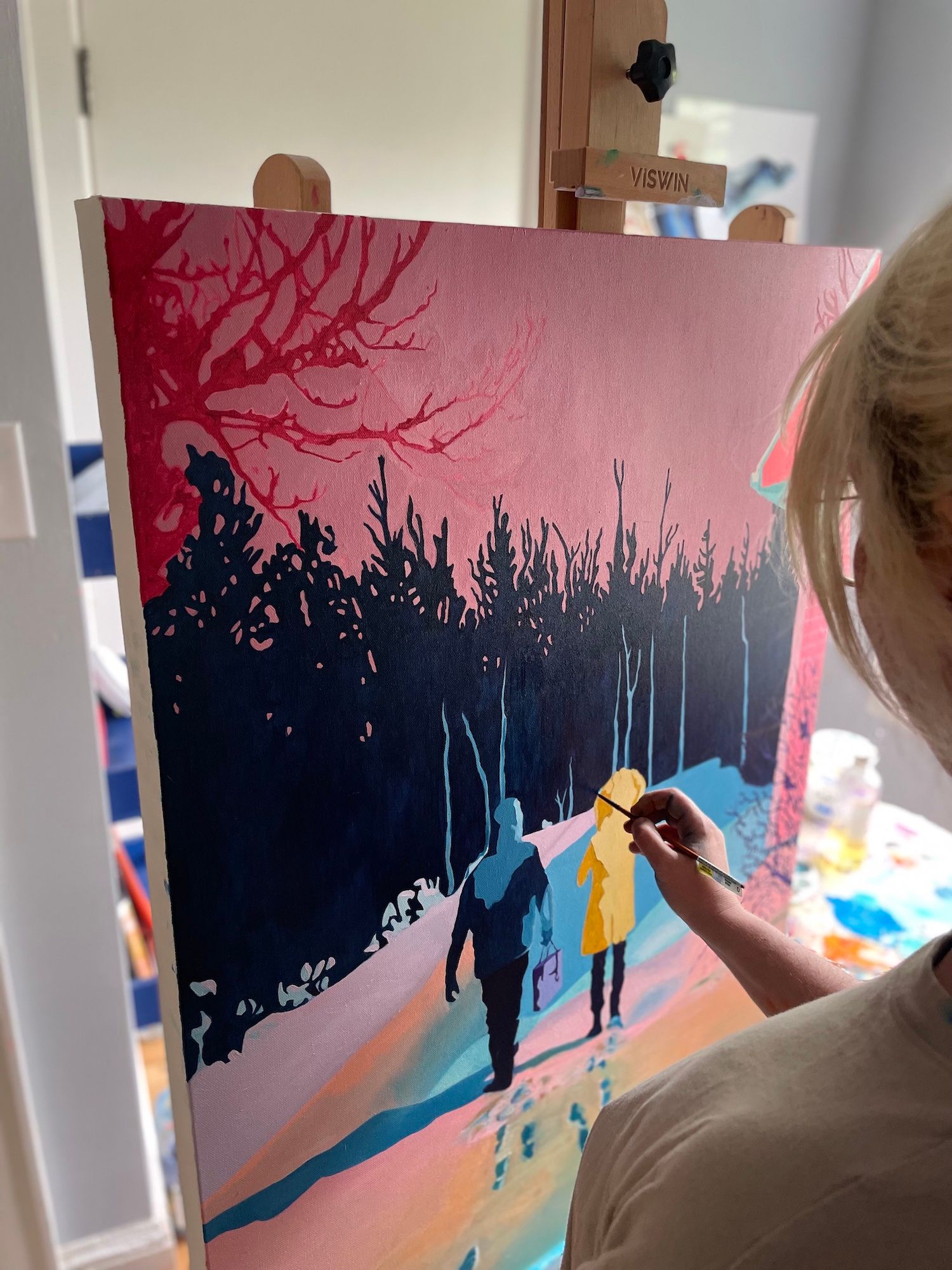 I'm making more money than I was when I worked almost twice the weekly hours. I'm now selling my paintings regularly which has improved my financial situation as well. With more time and less stress, I literally cannot complain. The closest I have to a complaint is a feeling of guilt for having it so good. Bragging generally isn't my jam, as there is nothing I want less in the world than to make someone else feel bad. But here in this context at PFJ, it feels like the right place to spread the word of my good fortune - in hopes that it can inspire others to offer this kind of life to their employees. Or for employees to keep looking for a place that respects and values them. They do exist, and it is very very much worth it to keep your eye out for the right fit. You might just land it. Hoot!
---
Editor's note
We think you should check out Erica's beautiful artwork:
---
The best people-first content, delivered to your inbox
Learn from people-first leaders and get tips and advice for how to build a work environment that keeps your team happy and healthy. We curate the best people-first content and deliver it straight to your inbox.