How to onboard the people-first way
Setting your team members up for success starts with effective onboarding. Here are some tips for getting it right.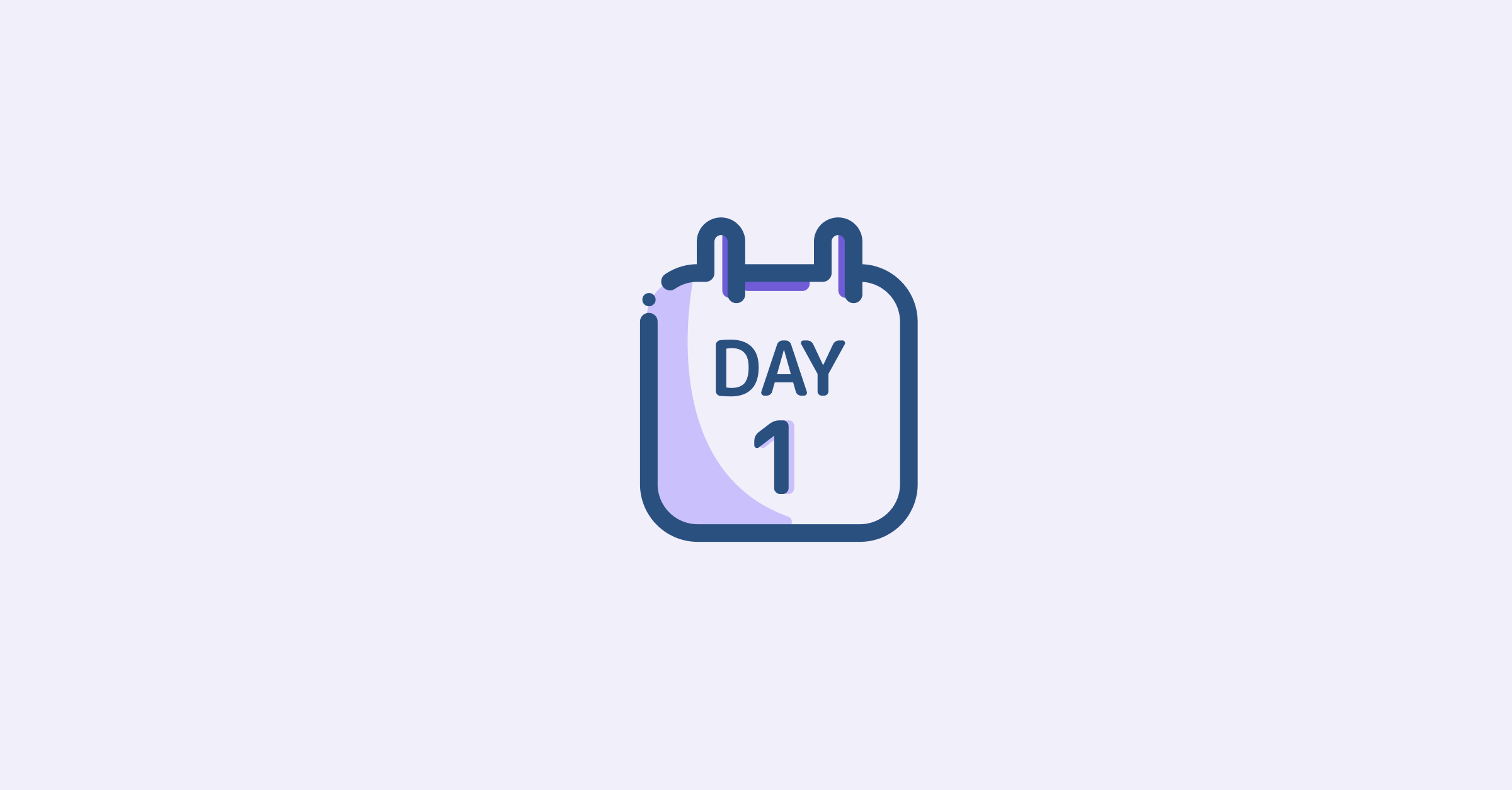 A new colleague's first workday can feel a bit like the day you're meeting that online date for the first time: The message exchanges (recruitment process) went well, you decide to get together (made and signed the offer) and today's the big day: You have the chance to dive deeper and see if it's really as good a match as you think.
Alright, this analogy might overstretch it—but much like a first date, getting the onboarding of new team members right is pivotal. As Rachel, an alum of Help Scout, puts it in her brilliant blog post A Detailed Guide to Remote Onboarding:
Employee onboarding is our first opportunity to prove that we stand by our values and goals. It's someone's very first experience with the company—in their choosing to work with us, our reputation and their career are at stake.
 — Rachel Baskerville, Help Scout alum
High investment, higher return
The purpose of onboarding is to set new team members up for success by enabling them to do their job well, thrive in the company's culture, and make personal connections. It's a major investment of time and energy and it's all but trivial: You want to share all information needed and make key introductions—at the right time—while avoiding information overload. But if you get it right, you get a lot in return. Anastasiia from Railsware looked into some stats that emphasize the importance of great onboarding: "Companies with a strong onboarding process improved new hire retention by more than 80% and productivity by over 70%." In comparison, "28% of employees quit in their first 90 days when experiencing poor onboarding."
Designing great onboarding is an iterative process and several companies from the people-first community go above and beyond to continuously improve how they do it.
Luckily, they have documented and shared what they've learned along the way. Here are three steps you can take today to up your onboarding game:
1. Get your preboarding right
The best onboarding programs start long before your new team member's first work day.

"The modern preboarding process begins as soon as a candidate accepts your job offer, and it ends on their first official day as an employee," writes J.R. Johnivan for SelectSoftware Reviews. Preboarding is your opportunity to make your new team member feel excited about joining the company, getting administrative things out of the way, and thereby being able to dive right in on their first day.
Welcome messages
It might be a couple of weeks between your hiring decision and the new colleague joining. To bridge this period, make sure to be in touch regularly. The exact content and frequency of messages will depend on your company. Help Scout sends four welcome emails: A friendly welcome with a team picture, an introduction to the company's values, a check-in with relevant blog posts, and some remote work tips.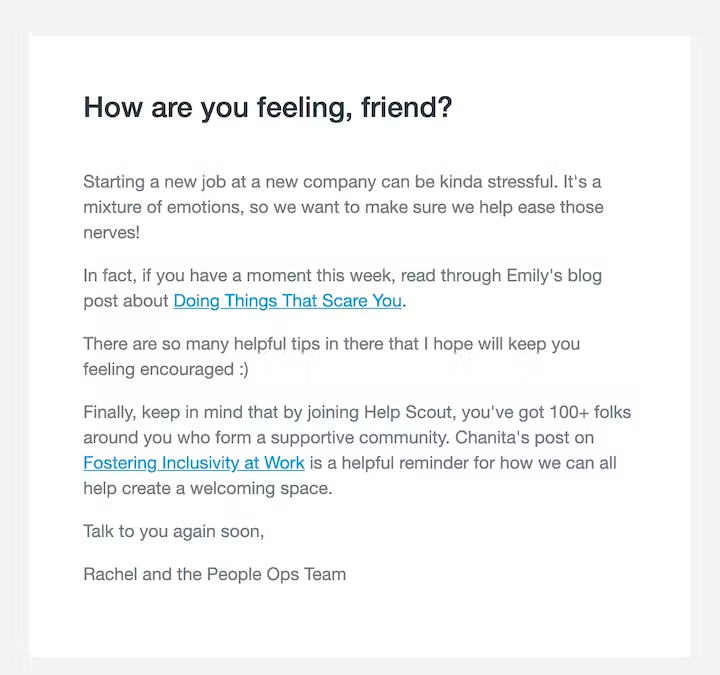 The third welcome email Help Scouts sends out to new hires. "Friend" is replaced by the person's name.
If you'd like to go the extra mile, You Can Book Me suggests sending a personalized card to your new team member emphasizing that they will make a great addition to the team.
Equipment & Swag
Especially in a remote set-up, you need to ensure that your new hire has everything they need in place before their first day. For most teams that includes:
Shipping a laptop and other work equipment.
Wiring an office set-up allowance so your new team member has the option to buy the tools they need before day one at work.
Small gifts to make your new team member feel welcome. Company swag, snacks or a book (that relates to your company culture or your new team member's new role) are all ideas for thoughtful items to include in a welcome kit.
2. Make sure new hires have the right people on their side from day one
Navigating a new company can feel quite overwhelming. Therefore, new team members must have support on their side and know who they can turn to for what type of questions. The folks at Buffer have thought a lot about who in the company is best placed to handle the communication and tasks of onboarding:
"We believe that our current teammates are our greatest asset to help shepherd new folks into the team: they've been a newbie before, they're excited and looking for opportunities to share, and the process provides an opportunity for servant leadership across the whole company."

 — Nicole Miller, former Director of People at Buffer
That's why they created three different roles that constitute their onboarding dream team:
The Hiring Manager: Usually the new hire's direct supervisor. They help select the role buddy, coordinate the roadmap of 30, 60, and 90-day goals, and give feedback.
The Role Buddy: Typically a peer working on the same team or in a similar role. This is the person for all role-related questions.
The Culture Buddy: A person on a different team guiding the new hire through culture-related questions and providing additional company context.
Customer.io tends to onboard new teammates along with others. They place them in a cohort group to create opportunities for group study sessions, collaboration, and personal connection: "This helps you feel less isolated, regardless of your time zone."
3. Set to-dos and goals from the start
We've probably all been there: The first days at a new job can feel like a struggle between wanting to immediately prove yourself and trying to silence your impostor syndrome. What helps? Clear to dos from day one and knowing the goals you'll be working towards.
Our friends at Railsware are aware of the information overload new employees encounter in the first couple of days. That's why they are not only very deliberate about portioning information but also provide new team members with personalized checklists for to-dos during their onboarding.
You Can Book Me thinks that "working without goals is like running without the finish line" and recommends setting specific goals for the first 3, 6, and 12 months:
"Make sure you discuss expectations and how these goals will be achieved. Decide together on metrics to help you measure these goals."
 — David Wachs on the You Can Book Me Blog
Bonus: A small onboarding toolbox
There are many different tools to plan and implement the onboarding process of new team members. Here's an overview of how some people-first companies use them:
Onboarding templates: Trello can be helpful to structure a new colleague's onboarding journey. Here's how the team at Help Scout has set up their onboarding template. People Ops and managers can collaborate on the board and everyone stays up-to-date.
Have you had a fantastic (or horrible) onboarding experience that we can learn from? Do you know a company that has nailed its onboarding process? We'd love to hear from you.
---
The best people-first content, delivered to your inbox
Learn from people-first leaders and get tips and advice for how to build a work environment that keeps your team happy and healthy. We curate the best people-first content and deliver it straight to your inbox.